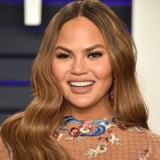 Posting adorable photos of your cute kids on Instagram is completely harmless, right? Well, it appears Jennifer Garner doesn't think so and decided not to take any chances when she issued a stern warning in the comments section of one such sweet snap.

On Sunday, Chrissy Teigen posted a photo of 10-month-old Miles looking like a John Legend mini me in a storage bin (see, cute and harmless, right?), but it wasn't long before Jennifer added her alarmist observation.

"I see my kids' nanny liking everything you put up with your gorgeous...
Published By: popsugar - Monday, 18 March