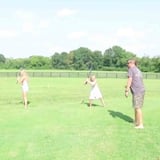 A post shared by Jason Aldean (@jasonaldean) on Aug 12, 2018 at 3:49pm PDT

After confirming that they were pregnant with their second child together on July 10, country singer Jason Aldean and his wife Brittany Kerr shared a video of their gender reveal on Instagram on Aug. 12 - and it's a girl! And the cutest part of all? Jason and Miranda already knew the baby's gender - they just wanted Jason's daughters Kendyl, 10, and Keeley, 15, to get in on the fun.

"Jason and I already know what it...
Published By: popsugar - Monday, 13 August, 2018