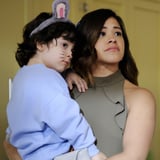 After Jane the Virgin delivered the biggest onscreen twist in the series so far in season four's emotional rollercoaster of a finale, The CW decided to throw a curveball of their own: Jane Gloriana Villanueva's romantic misadventures will officially end after season five. What's more is, we're going to have to wait even longer than anticipated to find out what happens after Michael's miraculous reappearance. Womp, womp.

Related:

This Video of the Jane the Virgin Cast Proves They Didn't Predict THAT Finale Twist Either

The network's Fall TV lineup is getting shifted around...
Published By: popsugar - Thursday, 17 May, 2018