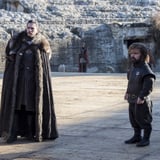 There's still a ways to go before the eighth and final season of Game of Thrones begins in 2019, but luckily that doesn't mean we have to say goodbye to Westeros for good. HBO announced that a prequel series was in the works back in June, and the studio has officially set a location and start date for production. So this is really happening!

According to Belfast Telegraph, the series will begin filming this October in Belfast through Paint Hall studios in the city's Titanic Quarter. Paint Hall studios handled most...
Published By: popsugar - Thursday, 12 July, 2018
Older News
Sophie Turner Reacts to Backlash Over Telling 'Game of Thrones' Ending to Friends indieWIRENews (Today) - As for why Kit Harington went backlash free for telling his wife about the "Thrones" ending, Turner says, "The people love him, he can do no wrong."...
Sophie Turner: Game of Thrones star unveils cleavage in plunging swimsuit with Joe Jonas express. (Today) - SOPHIE TURNER, who plays Sansa Stark in Game of Thrones, would have certainly have turned heads as she slipped into a plunging swimsuit whilst soaking up the sun in Miami...
Lena Headey: Game Of Thrones star joined the People's Vote Brexit march express. (Yesterday) - LENA HEADEY, who is most well-known for playing Cersei Lannister in Game of Thrones, attended a march in central London yesterday as part of the People's Vote campaign....
Travel Across the Seven Kingdoms With This Immersive Game of Thrones Itinerary in Ireland popsugar (2 days ago) - Winter has arrived as far as Westeros is concerned, but that doesn't mean you can't still enjoy the beauty of Dorne and the rustic majesty of the Iron Islands. Game...
Lena Headey: 'It took me a while' Game of Thrones star on Emilia Clarke after health scare express. (2 days ago) - LENA HEADEY dedicated a sweet message to her "warrior" Game of Thrones co-star Emilia Clarke on Instagram following the news the latter experienced life-threatening brain aneurysms after filming Season One...
Kit Harington: 'I felt unsafe' Game of Thrones star talks 'darkest period' on show express. (3 days ago) - KIT HARINGTON, who plays Jon Snow in Game of Thrones, has opened up about adjusting to his worldwide fame since being a part of the hit HBO show and has...
Is The Game Of Thrones Creators' New Star Wars Trilogy About The Old Republic? mtv (3 days ago) - New details surrounding the upcoming 'Star Wars' flicks helmed by the 'Game of Thrones' showrunners point to the films supposedly taking place during the Old Republic....