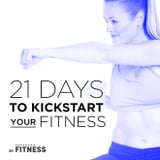 No matter where you are in your fitness journey, our 21 Days to Kickstart Your Fitness workout plan is here to help! No trainer? No gym? No problem. You can get fit and build strength with this all-new plan designed for beginners, with modifications for all fitness levels provided in every workout. Complete with 30-minute, at-home video workouts and tips on recovery techniques from Anna Renderer, our Kickstart Your Fitness plan will help you build fitness habits and change your life.

The program includes:

Brand-new daily workout videos that you can't find...
Published By: popsugar - 5 days ago