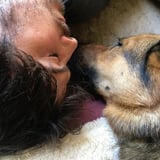 At 12:11 PM PST this beautiful girl took her last breath. Quietly cancer had filled this amazing girl of mine and there was nothing any of us could do. I've never known a more incredible animal. A soul that spoke 1,000 languages. Kid, I will miss you and anyone that ever got to know you will miss you. Countless flights, 100nights in the airstream, driving across the country, jumping in every lake- river- stream and ocean there was, just for a splash and to be happy. Thank you for loving...
Published By: popsugar - Tuesday, 12 June
Older News
Celebrity Father's Day Tributes 2018! Celebrity (3 days ago) - CAUTION: Potential sentimental tears ahead! Celebs (including Kim Kardashian West pictured above) flooded social media with Father's Day tributes on Sunday, proving there was a lot of of love and...