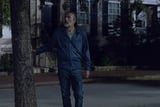 Warning: spoilers for the most recent episode of The Walking Dead ahead!

The Walking Dead introduced a brand new character on Sunday night, but judging from the scene he appears in, some fans were left wondering if we were supposed to know who he was from appearances in past episodes or seasons. So, who is Big Richie?

In the Feb. 10 episode, "Adaptation," Negan (a very grizzled looking Jeffrey Dean Morgan) makes his big return to the Sanctuary. While there, he encounters a highly rotted walker banging on the door of a...
Published By: popsugar - Monday, 11 February