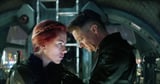 Warning: There are so many spoilers below. Like, tons. So don't read any further if you don't want to see them!

Avengers: Endgame is both the end of the Marvel Cinematic Universe's first "phase," as well as the start of the next adventure for some of its new heroes. But for a few characters we've grown to know and love over the last decade, the final Avengers film is indeed the end of their journey. So, who dies?

Although Infinity War wraps up with an astounding number of shocking deaths, Endgame...
Published By: popsugar - Thursday, 25 April