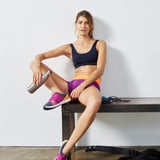 Image Source: POPSUGAR Photography / Kathryna Hancock

If you're even remotely interested in health and fitness, you've probably heard of the Tone It Up girls by now. They've been around quite a while (they even had a reality show, Toned Up, on Bravo in 2014), but their visibility has boomed lately, especially since the release of their products in Target.

Tone It Up is essentially a fitness community, and there are many facets to what its founders, Katrina Scott and Karena Dawn, offer to their followers. For one thing, they have an...
Published By: popsugar - Tuesday, 12 June, 2018