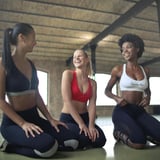 Identifying your body type can actually be helpful in unlocking your weight-loss potential. According to Carolyn Mein at YourTango, understanding how you're built can be instrumental in achieving your fitness and weight-loss goals.

Give your body what it needs.

If you've unsuccessfully tried to shed pounds and keep looking for the best way to lose weight, you've probably tried all sorts of diets and exercise routines in the past that haven't worked. But by discovering whether you're an ectomorph, mesomorph, or endomorph body type, you can learn the best way to lose...
Published By: popsugar - Friday, 10 August, 2018