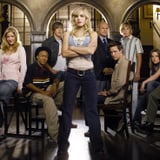 It's official, Marshmallows - our favorite private eye is back in action. After we were blessed with a movie in 2014, Veronica Mars fans were pretty sure we wouldn't get anything else. After all, series star Kristen Bell has been incredibly busy with multiple projects, including her other hit show, The Good Place. But then, our hopes and dreams were answered.

First, creator Rob Thomas did a Facebook Live session in April 2017 where he mentioned that he was playing around with the idea of a six-episode miniseries. Then, Bell...
Published By: popsugar - Thursday, 20 September
Older News
What's Leaving Hulu in March tvguide (Yesterday) - Another month, and another slew of movies are leaving Hulu. If you need to cry it out, check out Babe before it leaves at the end of the month, or...
What's Coming to Hulu in March 2019 tvguide (Yesterday) - Hulu has released its schedule for March, and there's a little bit of everything for everyone in the streaming service's latest selections, whether you're looking for grounded comedy, campy horror...