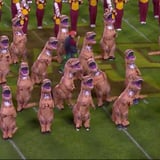 what is happening pic.twitter.com/ISaR6k4XwQ

- FOX College Football (@CFBONFOX) October 14, 2018

When Iowa State's marching band decided to play the theme from Jurassic Park during their halftime show over the weekend, the performance contained an extra special touch: a giant group of dancing dinosaurs. Dressed in the hilarious blow-up costumes that have popped up everywhere from pregnancy announcements to figure skating routines, the dancers broke it down on the football field with some coordinated moves as the crowd roared (pun intended) in the stands. Watch it above, then check out the...
Published By: popsugar - Saturday, 20 October