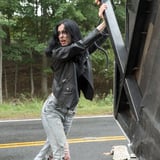 Missed your favorite smack-talking private investigator with super strength and a killer leather jacket? Jessica Jones has returned for one last butt-kicking third season. While we're excited for the brand new batch of episodes, it's certainly been a while since the second installation of the series dropped. Between mad scientists, murderous mothers, and cut business ties, a helluva lot went down in Hell's Kitchen when we last saw Jessica and her (former) friends.

Taking a cue from Jessica's detective work, we've gathered up the most crucial details about how the show's...
Published By: popsugar - Friday, 14 June
Older News
Time to Celebrate, Euphoria Fans - HBO Has Renewed the Drama Series For Season 2 popsugar (Yesterday) - We're halfway through the first season of HBO's new series Euphoria, but we're already ready for a season two. In addition to a number of graphic and disturbing scenes that...
Nikolaj Coster-Waldau Defends Game of Thrones Writers After Season 8 Backlash tvguide (Yesterday) - Game of Thrones' final season might've gotten a wintry response from some parts of its audience, but at least one actor is ready to defend the writers whose Season 8...
Top Gear Celebrates Cars and Camaraderie in Season 27 tvguide (2 days ago) - Top Gear, the iconic British celebration of cars and camaraderie, is back for a 27th season, which premieres in the US on BBC America July 14. This season has a...
Get Ready, True-Crime Lovers: Mindhunter Officially Has a Season 2 Premiere Date popsugar (2 days ago) - If you've been craving the return of Netflix's dark and gloomy FBI thriller Mindhunter, we have some good news for you! The series, which is based on a true story,...
Stranger Things: 27 Behind-the-Scenes Photos From the New Season That Will Flay Your Mind popsugar (3 days ago) - Stranger Things is currently racking up millions of views now that season three premiered on Netflix. But what if you've already blown through the new episodes? And you're sick of...
34 Memes About Stranger Things Season 3 That Are Funny AND Traumatizing popsugar (3 days ago) - There are a lot of funny moments in Stranger Things season three - Dustin and Suzie singing that duet, the way Eleven dumps Mike, etc. - but they're overpowered by...