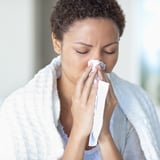 You've probably heard that "sweating out a cold" will relieve your unpleasant symptoms and help you feel better. Or maybe you are so excited for your group fitness class, you can't possibly cancel, even if you're not feeling well.

If you're considering showing up to a workout class while sniffling, sneezing, and fighting off a headache, you should reconsider - we spoke to some experts to find out whether or not it's a good idea to hit a boutique fitness class if you're feeling under the weather.

Related:

Your Definitive Guide For Preventing...
Published By: popsugar - Saturday, 20 October, 2018