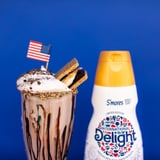 *taps mic* *leans in*

Guys, I'm not sure who exactly needs to hear this today, but I for one think it's very important for everyone listening to know that, thanks to International Delight, it'll soon be socially acceptable to have s'mores for breakfast. The creamer and iced coffee brand is launching a s'mores-flavored coffee creamer this Spring that's sure to take some of us right back to the days we spent perfecting those delicious graham cracker, chocolate, and marshmallow sandwiches around the campfire.

International Delight's S'mores Creamer joins a long list of...
Published By: popsugar - Saturday, 20 April