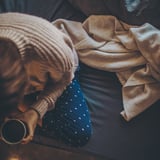 The next time you're struggling to wind down in the evening, you should consider sipping some tea. A cup before bed may help you fall asleep faster.

"The warmth of tea, coupled with herbs, may make it easier for some individuals to relax," Nancy Farrell Allen, MS, RDN, a spokesperson for the Academy of Nutrition and Dietetics, told POPSUGAR. "There are several teas on the market that are promoted as sleep aids."

One of those is chamomile tea, which contains an antioxidant called apigenin that's been shown to reduce anxiety and act...
Published By: popsugar - Wednesday, 10 July