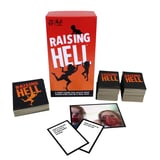 If the games Cards Against Humanity and What Do You Meme? had a baby together, it'd be Hasbro's new game for parents: Raising Hell. The party game for adults is all about commiserating with your fellow parents over the crazy things kids say, do, and require of us as they grow up, and every mom and dad knows there's no better way to do that than to pass around all-too-real memes.

The game consists of 372 hilarious cards - 72 photo cards and 300 caption cards - and players take turns...
Published By: popsugar - Saturday, 16 February
Older News
The best celebrity cameos ever Celebrity (Yesterday) - Donald Trump – Home Alone 2: Lost in New York (1992) Bill Murray – Zombieland (2009) Charlize Theron – Arrested Development (2005) Martin Sheen – Hot Shots! Part Deux (1993)...
Lena Headey: Game Of Thrones star joined the People's Vote Brexit march express. (Yesterday) - LENA HEADEY, who is most well-known for playing Cersei Lannister in Game of Thrones, attended a march in central London yesterday as part of the People's Vote campaign....
Should The OA Get a Season 3? tvguide (Yesterday) - [Warning: This post contains spoilers about The OA: Part II.]Should The OA: Part III happen? After that batsh-- Season 2 finale, fans are divided. But our vote, for whatever that...
We Demand Justice for Old Knight, The OA's Telepathic Octopus tvguide (2 days ago) - [Warning the following contains spoilers for The OA: Part II. Read at your own risk!]It doesn't matter if you're talking to someone who loves The OA or someone who hates...
Kit Harington: 'I felt unsafe' Game of Thrones star talks 'darkest period' on show express. (3 days ago) - KIT HARINGTON, who plays Jon Snow in Game of Thrones, has opened up about adjusting to his worldwide fame since being a part of the hit HBO show and has...
We Need to Talk About That OA: Part II Ending tvguide (3 days ago) - Warning: This post contains spoilers for The OA: Part II. If you haven't finished The OA: Part II, click away. Now. You do not want to be deprived of the...
Daphne Bramham: Obama popularity here part her own rich story, part slick staging, part our fascination with celebrity Celebrity (3 days ago) - A former first lady packed Rogers Arena Thursday night. Not only did Michelle Obama sell out the stadium, there were lines of groupies waiting to have their photos taken with...