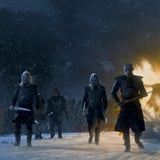 In the wide and wild world of Westeros, Dragonglass resembles obsidian, a type of naturally occurring glass formed by volcanoes. But unlike real-world obsidian, dragonglass in Game of Thrones has magical significance, since along with Valyrian steel, it's one of the only substances known to kill wights and White Walkers. With season eight back, it's on everyone's tongues as the battle with the undead is heating up (or perhaps we should say chilling up?).

What Powers Does Dragonglass Have?

We've seen the incredible powers dragonglass has time and time again over...
Published By: popsugar - Monday, 15 April