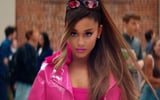 Pop-culture-lovers everywhere have been eagerly awaiting the drop of Ariana Grande's highly anticipated music video for her single "Thank U, Next" ever since she posted behind-the-scenes photos on Instagram. Luckily, she has finally graced us with the video, and boy, was it worth waiting for.

The video spoofs some of our favorite movies like Legally Blonde, Mean Girls, Bring It On, and 13 Going on 30 and includes the iconic beauty looks from each film. From channeling Regina George with her signature blond hair and glossy pink lips to re-creating Jennifer...
Published By: popsugar - Monday, 3 December
Older News
Lin-Manuel Miranda and Jimmy Fallon Put a Holiday Twist on Songs by Ariana Grande, Cardi B, and More popsugar (Today) - What would the holidays be without a few tunes? Around this time of year, there are plenty of carols and old classics to keep your earbuds busy till the end...
Just Try Not to Laugh as You Watch Tiffany Pollard's Fenty Beauty Video popsugar (Today) - "Y'all know that bad b*tch, who's bad enough to show up uninvited? Yeah, that's me."That's just one of the many gems that Tiffany Pollard - aka New York, aka the...
Christmas Number One 2018 shock: Midweek chart shows Ariana Grande is NOT in the lead express, (Yesterday) - CHRISTMAS NUMBER ONE 2018 midweek data is in - and bookies' favourite Ariana Grande is not in the lead as things stand....
Happiest primary school in Britain hopes to beat Ariana Grande to Christmas No.1 mirror (2 days ago) - Charity single 'Light Up' by Flakefleet Primary School in Fleetwood, Lancashire, has reached number two in the iTunes charts ...
11 celebrity moments that went viral in 2018 Celebrity (2 days ago) - Ariana Grande and Pete Davidson's whirlwind romance was the talk of the internet. 11/12 SLIDES © Ariana Grande/YouTube The video for Grande's single "thank u, next" was a sensation. 12/12...
Ariana Grande Owned 2018 in Style - Man or No Man by Her Side popsugar (2 days ago) - If any single celebrity embodied girl power in 2018, it was Ariana Grande - especially toward the end, when she received Billboard's Woman of the Year award shortly after releasing...
Ariana Grande Tries to Visit Pete Davidson After He Posts Disturbing Message Celebrity. (3 days ago) - She'll be there. Ariana Grande proved she still cares about her ex-fiancé, Pete Davidson, after the Saturday Night Live star posted a disturbing ......
Ariana Grande desperately reaches out to Pete Davidson after apologising for 'dumb joke' mirror (3 days ago) - Pete Davidson has deleted his social media accounts after posting a worrying message ...
Pete Davidson Posts Suicidal Note, Ariana Grande Tweets Support extratv (3 days ago) - Pete Davidson has people seriously worried....
Kanye West Responds to Ariana Grande's 'Grown Men' Comment About His Feud With Drake: 'I ... Celebrity. (3 days ago) - The war is far from over. Kanye West didn't take too kindly to Ariana Grande's comments about his feud with Drake. Celebrity Feuds: The Biggest Ever!...