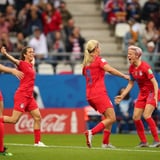 The US Women's National Soccer Team started the 2019 FIFA Women's World Cup with a record-breaking game against Thailand in Paris. The historic run ended with a stunning 13-0 victory, but that result is not the only thing that will leave your jaw on the floor. Here's what the team has racked up so far.

Alex Morgan Scored the Most Individual Goals in a Single Women's World Cup Game

Forward Alex Morgan, one of USWNT's biggest stars, set an individual record in the match against Thailand. Over the course of the team's...
Published By: popsugar - Sunday, 16 June