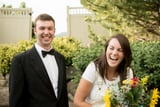 My story starts and ends on July 25. The only catch is that it's a span of two years.

Andrew and I got married on July 25, 2015. We had been dating about a year when we decided we wanted to tie the knot and had everything planned perfectly for the big day.

Truly, the day ran as smoothly as it possibly could've. It was easily the best and most fun day of my life. The ceremony was flawless, and we partied all night at the reception. Even my dad was busting...
Published By: popsugar - Monday, 16 April, 2018