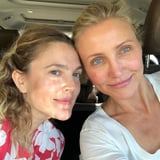 #nomakeup #nofilter #oldschoolsisters #playdate #dayoff #friday #SUNSCREENALWAYS A post shared by Drew Barrymore (@drewbarrymore) on Jul 13, 2018 at 10:57am PDT

Drew Barrymore spent her day off with Cameron Diaz, and that's exactly how we like to spend our Summer Fridays, too. The 43-year-old actress recently shared a stunning, no-makeup selfie with her longtime friend and former Charlie's Angels costar. In her hashtag-filled caption, Drew sweetly described Cameron as an "old-school sister," and as for their impeccable complexions, Drew emphatically wrote, "#SUNSCREENALWAYS."

The two actresses have known each other since they were...
Published By: popsugar - Friday, 13 July, 2018