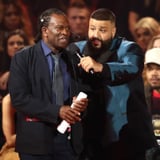 Source: Getty / Kevin Mazur and Getty / Jeff Kravitz

It's hard to imagine DJ Khaled ever getting stage fright, but while hosting the 2018 iHeartRadio Music Awards, the 42-year-old producer and father to Asahd appeared completely caught off guard when it came time to announce Jenna Dewan Tatum's name to present an award.

"Check this out. Everybody in the VIP - save your snack. It's about to get serious," he announced, in a clip captured by E! News. "Our next presenters are lions. Where my girl at? Where my girl at?...
Published By: popsugar - Tuesday, 13 March, 2018