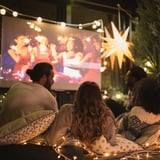 The next time you crave a movie night, skip the local cinema and step into your backyard instead. With minimal supplies and a simple, straightforward set-up, you can create an outdoor theater for you and your friends. So, pop some popcorn, grab a few blankets, and follow these tips to watching your favorite flick right in your own backyard.

Related:

Outdoor Movie Night Just Got a Whole Lot Easier Thanks to This Portable Projector

1. Choose the Space

You can't have a movie without power, so be sure to find a spot outdoors with...
Published By: popsugar - Friday, 12 July