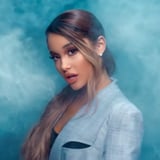 Ariana Grande is the musical gift that keeps on giving. From her emotional "Thank U, Next" performance to her brand-new "Breathin'" music video, fans have been treated to a healthy dose of the 25-year-old singer's powerhouse talent recently. But wait . . . there's more! Eagle-eyed viewers have a very specific question on their minds after watching Grande's video: did she use the opportunity to tease the tracklist of her next album? It sure looks like it.

In the video, Grande makes her way through a crowded bus station, and...
Published By: popsugar - Thursday, 8 November
Older News
10 Red Carpet Looks That Prove the Low Ponytail Can Actually Be Versatile Celebrity. (Yesterday) - If award season is any indication, the Ariana Grande, high ponytail era may be coming to an abrupt end. Okay, so we doubt we'll ever be done trying to ......
Jonah Hill and Jerry Seinfeld Join Forces For Vampire Weekend's "Sunflower" Music Video popsugar (2 days ago) - We have three big things that might excite any Vampire Weekend fans in the house. First, the band just dropped the music video for their latest single, "Sunflower," with The...
Ariana Grande's Director, Vevo Discuss the Power of Music Videos at SXSW: 'You Should Be ... Music (3 days ago) - Many of the past year's biggest pop culture moments have one thing in common: They revolved around music videos. There was Drake's "God's Plan" ......
Ariana Grande Gives Delicate Rendition of 'Needy' at iHeartRadio Music Awards Music (3 days ago) - Ariana Grande delivered an intimate, pre-recorded rendition of her new song "Needy" at the iHeartRadio Music Awards Thursday. The simple stage ......
iHeart Radio Music Awards 2019: Ariana Grande, Cardi B, Alicia Keys and Taylor Swift Dominate Music (3 days ago) - Women "stepped up" at the 2019 iHeartRadio Music Awards, just as they did at last month's Grammys. Ariana Grande was named artist of the year....