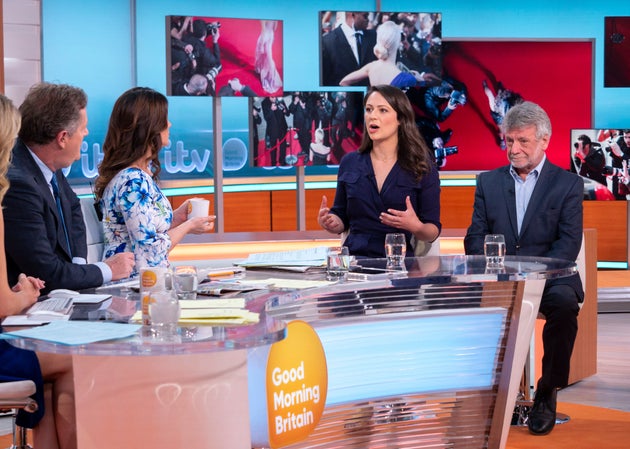 It was a case of another day, another argument for Piers Morgan, who clashed with 'Coronation Street' star Nicola Thorp during Monday's episode of 'Good Morning Britain'. Having found herself hitting headlines for wearing a "revealing" outfit at last month's British Soap Awards, Nicola was keen to speak out about the sexism women in the spotlight face, pointing out that men can walk down red carpets without the scrutiny faced by their female counterparts. "Women are constantly being told they're looking too sexy, too revealing," she told Piers and Susanna...
Published By: huffingtonpost - Monday, 11 June, 2018
Older News
Piers Morgan addresses The One Show host's awkward 'eye rolls' ahead of appearance express. (Yesterday) - PIERS MORGAN, who presents Good Morning Britain, reacted to The One Show's stand-in host Angela Scanlon after she pulled a face when mentioning his name in tonight's live episode....
Sam Aston: Coronation Street star and wife address Alan Halsall's new relationship express. (Yesterday) - SAM ASTON, who plays Chesney Brown on Coronation Street, tied the knot with Briony Gardner earlier this month but it wasn't just the newlyweds who gathered attention....
Kym Marsh: Coronation Street star on Meghan and Prince Harry's use of stillborn son's name express. (Yesterday) - KYM MARSH has spoken out about the news Meghan Markle and Prince's Harry named their newborn Archie, the same name the Coronation Street actress chose for her son, who was...
Meghan Markle branded 'fame-hungry diva' by Piers Morgan in epic rant over wedding pics mirror (Yesterday) - Telly presenter shamed the Duchess of Sussex for her 'self-promotion' and creating in her own 'royal reality TV show'...
Michael Parkinson: 'Completely broke down' Piers Morgan on heartbreaking moment with host express. (2 days ago) - MICHAEL PARKINSON will appear on Piers Morgan's new series of Life Stories later this year and, according to the host, Michael "completely broke down" when he opened up about his...
Harry Redknapp: 'He gets angry' I'm A Celebrity star's reaction to 'dodgy' claims revealed express. (2 days ago) - HARRY REDKNAPP is set to appear on Piers Morgan's Life Stories, with the presenter now revealing how the former football manager reacted to some people labelling him as "dodgy"....
Sam Aston almost DROPS news bride as he performs YOGA in jaw-dropping wedding dance mirror (2 days ago) - The Coronation Street star almost dropped his new bride Briony Gardner as he went all out to impress guests...
Inside Sam Aston's wedding to Briony Gardner as Coronation Street co-stars attend mirror (2 days ago) - Sam, who plays Chesney Brown in the ITV soap, was joined by his co-stars as he tied the knot with his childhood sweetheart...
Sam Aston wedding: Coronation Street's Chesney Brown star MARRIES childhood sweetheart  express. (3 days ago) - SAM ASTON, who plays Chesney Brown in Coronation Street, has married his childhood sweetheart Briony Gardner, saying she looked "unbelievably beautiful" on their special day....
Piers Morgan Twitter: GMB host mocks Madonna in CUTTING Eurovision 2019 takedown express. (3 days ago) - PIERS MORGAN took aim at Madonna's Eurovision Song Contest 2019 performance on Twitter last night, mocking the singer in a vicious takedown....