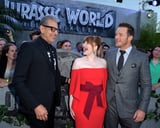 The star-studded cast of Jurassic World: Fallen Kingdom looked like one big, happy family at the film's LA premiere on Tuesday night, and we're wishing they'd adopt us into their clan. Jeff Goldblum attended the event alongside his wife, Emilie Livington, while Bryce Dallas Howard and Chris Pratt took the red carpet solo and posed with fans and realistic raptor statues along the way. But that's not all! Other stars, including James Cromwell, BD Wong, Daniella Pineda, and Justice Smith were in attendance as well, just further amping up our...
Published By: popsugar - Wednesday, 13 June, 2018
Older News
Celebrity Social Media, December 14, 2018 Celebrity. (Yesterday) - He's not jumping on a couch, but Chris Pratt is declaring his love in a big way. I would like to draw your attention to the bottom right corner; Katherine...
The CW Really Wants to Make Chris Wood Happen tvguide (Yesterday) - Welcome to TV Guide's 12 Days of Chris-Mas, a festive celebration of famous dudes named Chris. Every day leading up to Dec. 25, we will honor a single Chris, counting...
The 12 Days of Chris-Mas, Explained tvguide (Yesterday) - The Chris Rankings are a fairly recent development in the course of human history, a ridiculously silly but obviously very important cultural pastime that sprung up after Chris Pratt got...
'Jurassic World 3' Will Not Be The Dinosaurs Vs. Man War Movie You've Been Waiting For hitfix (Yesterday) - Colin Trevorrow breaks down his plan for "Jurassic World 3."...
Chris Pratt & Katherine Schwarzenegger Make It Instagram Official extratv (Yesterday) - Actor Chris Pratt, 39, and author Katherine Schwarzenegger, 29, are going public with their relationship!...
Chris Pratt FINALLY confirms Katherine Schwarzenegger romance with cute tribute mirror (Yesterday) - The Guardians of the Galaxy star confirmed his relationship with Arnie's daughter by wishing her a happy birthday ...
Evans, Hemsworth, Pine, Or Pratt: Which Chris Reigned Supreme In 2018? mtv (2 days ago) - Which famous Chris reigned supreme in 2018 — Pine, Pratt, Evans, or Hemsworth? MTV News breaks down the Chris power rankings....
Chris Pratt And Tom Holland Are Taking Their Heroics To Pixar mtv (3 days ago) - Chris Pratt, Tom Holland, Julia Louis-Dreyfus, and Octavia Spencer will voice star in Pixar's "Onward."...