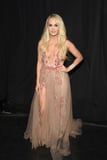 The fashion at Coachella weekend one was unforgettable. But on the night of April 15, all eyes were on Carrie Underwood. The singer made an appearance at the 53rd annual ACM Awards, which marked her first time at a public event since suffering a major injury. She performed her song "Cry Pretty" in a silver fringed minidress. The singer was decked out in sparkly jewelry as she brought fans to tears with her voice.

Her performance outfit wasn't the only one fans fell in love with. After winning the award...
Published By: popsugar - Monday, 16 April
Older News
Celebrity sighting in The County Celebrity (Yesterday) - A wedding in Prince Edward County served as the backdrop for a celebrity sighting over the weekend. Grammy Award winner Carrie Underwood and husband NHLer Mike Fisher were at a...