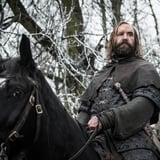 Warning: giant Game of Thrones spoilers ahead! Proceed with caution!

At long last, one of the Game of Thrones reunions we had all been waiting for happened: The Hound and Arya have reunited and it all went down just as we had hoped it would - with zero bloodshed and a dash of begrudging respect.

In the season eight premiere of the show, Arya spots The Hound as he's riding into Winterfell with the rest of Jon Snow and Daenerys's army. At first, she seems slightly shocked and maybe not entirely...
Published By: popsugar - Sunday, 14 April