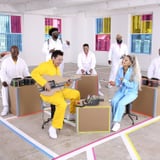 If you've had "No Tears Left to Cry" stuck in your head since it premiered in April, join the freakin' club. Of course, expect the unexpected because Ariana Grande's here to take the song to another level. Rocking protective glasses and a bright blue jumpsuit, the 24-year-old singer joined Jimmy Fallon and The Roots to perform her hit on The Tonight Show, with an unexpected (electronic) twist! The group decided to use solely Nintendo Labo instruments for their version, and the results are truly incredible. Each instrument is put together...
Published By: popsugar - Tuesday, 15 May
Older News
Hello, Please Watch This F*cking Adorable Troye Sivan and Ariana Grande Video popsugar (2 days ago) - On Thursday, Troye Sivan released the music video for "Dance to This," his dreamy new single with Ariana Grande. In the video, Sivan performs for a bunch of unimpressed onlookers...
Ariana Grande Proves God Is a Woman With Her Lavender Hair popsugar (2 days ago) - A post shared by Ariana Grande (@arianagrande) on Jul 18, 2018 at 2:10pm PDTA lot has been happening in Ariana Grande's life lately. She's releasing new music, newly engaged, and...
Ariana Grande's "God Is a Woman" Body Paint Is So Good, People Are Re-Creating It With Makeup popsugar (3 days ago) - Screaming prairie dogs in Ariana Grande's "God Is a Woman" video aside, you have to admit: the makeup and body paint featured is good. Throughout the video, Grande is seen...