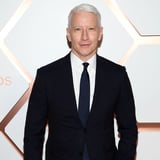 Ever wonder what it takes to transform into a White Walker from Game of Thrones? Let Anderson Cooper show you.

On this Sunday's episode of 60 Minutes, Cooper is going to reveal what it takes to transform into a White Walker by showing the process on himself. He posted a video on Instagram of him in full costume makeup - complete with prosthetics - and gave a look into what it takes to turn into a minion of the Night King on his Instagram Story. Filing the upcoming episode under stuff-you-absolutely-need-to-see...
Published By: popsugar - Friday, 12 April
Older News
Dan Walker: 'Hasn't worked' BBC Breakfast host fails to distract fans amid health concerns express. (Yesterday) - DAN WALKER, the host of BBC Breakfast, gave a health update after his fans revealed their concern for him on Twitter....
Jillian Bell Reveals the Improvised Scene Paul Thomas Anderson Cut From 'The Master' indieWIRENews (Yesterday) - Bell scored the role because Anderson is a fan of "Workaholics."...
Sophie Turner: Game of Thrones star 'down' for unexpected new role after Sansa express. (Yesterday) - SOPHIE TURNER, who's role as Sansa Stark in Game of Thrones recently came to a close, has revealed she is "down" to take on a very unexpected new part....
Gloria Vanderbilt, Fashion Icon and Anderson Cooper's Mother, Dead at 95 extratv (Yesterday) - Fashion icon and socialite Gloria Vanderbilt, one of the first people to popularize designer jeans, has passed away at the age of 95....
Kate Middleton Stands Out in a Royal Line-Up Thanks to Her Designer Coat popsugar (Yesterday) - Kate Middleton joined members of the royal family at Windsor Castle on Monday for the Order of the Garter service, and she looked as perfectly polished as ever in a...
Game of Thrones Stars Who Felt Just as Conflicted About Season 8 as You Did tvguide (Yesterday) - Thousands of Game of Thrones fans were not the only people who found some fault with the record-breaking show's final season. Members of the series' sprawling cast were not shy...
Lena Headey Says She Was 'Gutted' by Cersei's Lame Death on Game of Thrones tvguide (2 days ago) - The Game of Thrones finale set records for viewership -- and for being the rare finale to suck so much that fans started a petition to do it over, and...
Dan Walker Twitter: 'Eye of doom' BBC Breakfast star reveals he woke up with health issue express. (2 days ago) - DAN WALKER, who presents BBC Breakfast, revealed to his Twitter followers he was spending his Father's Day in the walk-in centre after waking up with an eye issue....