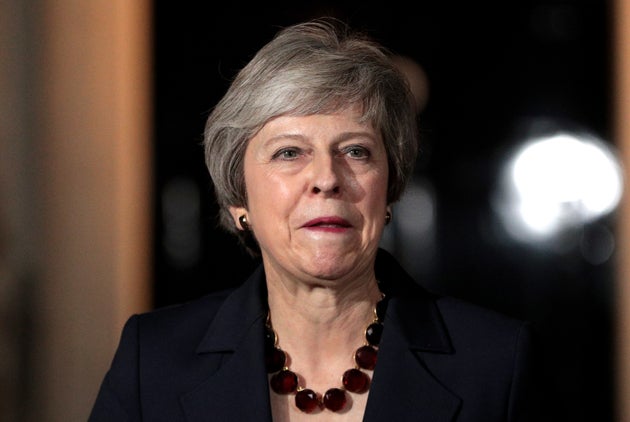 Almost half of voters back Theresa May staying on in Downing Street, at least until Britain leaves the European Union, according to a new poll, giving the embattled PM a sliver of solace on what has otherwise been a hellish week.A survey for the Sunday Mirror and Sunday Express found 47% of people want May to carry on until Brexit is due to happen in March - including 75% of Conservative voters.A third (33%) of those polled by ComRes believe she should quit before Brexit.However, there was a more even...
Published By: huffingtonpost - Saturday, 17 November
Older News
Nicky Morgan Says Theresa May 'Spectacularly Mishandled' Brexit Votes huffingtonpost (2 days ago) - Theresa May "spectacularly mishandled" Thursday's Brexit votes and brought an "entirely avoidable" defeat on herself, a Tory former cabinet minister has said.Nicky Morgan also stressed that trust in the prime...
May Would Survive Mass Walkout Of Remainer Ministers, Andrea Leadsom Suggests huffingtonpost (2 days ago) - Theresa May would survive as prime minister even if six Remainer ministers in her cabinet resigned en masse over a no-deal Brexit, Commons leader Andrea Leadsom has suggested.Her staunch defence...
Rachel Johnson speaks out after 'stripping off' for Brexit attention mirror (3 days ago) - The remain campaigner had stunned Sky News viewers when she began undoing the buttons of her blouse live on TV ...
Missed The Valentine's Day Brexit Massacre? Here's Everything You Need To Know huffingtonpost (3 days ago) - Ahh, Valentine's Day. A day for roses, champagne and, because it's 2019 and Brexit dominates everything, a humiliating defeat for Theresa May in the House of Commons. (Though if you're...
Secret No-Deal Brexit Papers To Be Published As Government Caves To Pressure From MPs huffingtonpost (3 days ago) - The government has offered to publish its most recent internal assessment of the impact on business and trade of a no-deal Brexit, in the face of a possible Commons defeat.Ministers...
The Dutch Have A Massive Blue Brexit Monster Because... Oh We Don't Even Know Anymore huffingtonpost (3 days ago) - What's blue, furry, massive and wears a Brexit t-shirt?Yeah, we have no idea either but there's one on the desk of the Dutch foreign minister and he doesn't seem too...
Put Aside 'Ideological Purity' And Back Theresa May On Brexit, Liam Fox Tells Tory Rebels huffingtonpost (3 days ago) - Liam Fox has warned Tory MPs they will undermine the prime minister's negotiations with Brussels if they vote against the government on Thursday.Brexiteer Tories are threatening to rebel in a...