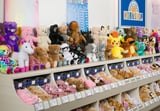 If you heard the how-is-this-not-too-good-to-be-true news that Build-a-Bear will have a "Pay Your Age Day," in which you can get nearly any of the retailer's popular stuffed animals for as little as $1 (or, say, $5 if you come with your kindergartner), you have probably already cleared your schedule for Thursday, July 12. But do you have a game plan?

Related: This Build-a-Bear "Pay Your Age" Deal Sounds Too Good to Be True, but It's VERY Real

From classic collections to specially licensed characters - we're talking Marvel's Black Panther to Frozen's...
Published By: popsugar - Wednesday, 11 July, 2018