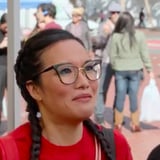 View this post on Instagram

You'll be singing this song all day long now...you're welcome. @aliwong and @randallpark star in #AlwaysBeMyMaybe.

A post shared by Netflix US (@netflix) on Apr 23, 2019 at 8:11am PDT

Ali Wong is teaming up with Netflix again, and, wow, we're excited. The Hard Knock Wife comedian is well-known for her Netflix specials, but this time around she channeled her humor into a rom-com with "Fresh Off the Boat" actor Randall Park. The two star in Always Be My Maybe, a movie about old friends and their unresolved...
Published By: popsugar - Tuesday, 23 April