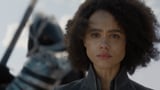 Warning: Major, heartbreaking spoilers for Game of Thrones below!

Do you think my insurance will allow me to bill Game of Thrones showrunners David Benioff and D.B. Weiss directly for all of the therapy I'm inevitably going to need after watching season eight? Because, with just one more episode to go in the groundbreaking fantasy series, I'm about this close to losing it. Over the last five episodes, the HBO hit has managed to kill off everyone from brave and badass defenders of the North, to a certain evil queen, to...
Published By: popsugar - 7 days ago
Older News
OK, What?! This Game of Thrones Poster Gave Away the Ending All the Way Back in Season 1 popsugar (Yesterday) - Warning: Major Game of Thrones spoilers ahead!A Starbucks cup is one thing, and I can handle a stray water bottle, but this subtle detail might have given away the ending...
Maisie Williams's Recent Hair Change Is Her Most Dramatic One Yet popsugar (Yesterday) - Game of Thrones might be over, but Maisie Williams's hair is on an epic journey of its own. The actress has gone from having a deep brown, '70s-inspired color to...
Every Major Film Studio Failed When It Came To Trans Representation Last Year mtv (Yesterday) - Zero of the 110 major studio films released in 2018 featured a transgender character, according to a new report from GLAAD. And representation for LGBTQ+ characters of color isn't much...
Game of Thrones Writers Almost Let This Fan-Favorite Character Live tvguide (Yesterday) - There were a lot of gutting character deaths in Game of Thrones' final season, but the ending might have been very different if the writers had stuck to their initial...
Game of Thrones's Major Season 8 Deaths, Ranked Least to Most Satisfying tvguide (Yesterday) - Game of Thrones' final season was a straight-up bloodbath.There was a time, after the Battle of Winterfell, when some fans were unsatisfied that so many of the show's central figures...
Game of Thrones Fans Say a Tearful Goodbye to 1 Major Character After the Series Finale popsugar (Yesterday) - Warning: MAJOR Game of Thrones spoilers ahead!Daenerys Targaryen, the Unburnt, Breaker of Chains, and Mother of Dragons, has fallen. While many fans have long anticipated Dany's inevitable downfall, perhaps nothing...
Emilia Clarke: Game of Thrones star spills on children being called Daenerys and Khaleesi express. (Yesterday) - EMILIA CLARKE'S character, Daenerys Targaryen, met her demise in Game of Thrones after descending into the Mad Queen and the actress has responded to parents who are now not happy...
Yep, That Was Robin Arryn Discussing the Iron Throne on GOT - He Grew Up! popsugar (2 days ago) - Over the last eight years, Game of Thrones fans have witnessed beloved characters grow up right before our eyes, but literally no one in all of Westeros or watching at...
Please Enjoy These Behind-the-Scenes Photos of HBO's Documentary About Game of Thrones popsugar (2 days ago) - It's hard to believe Game of Thrones is actually over, but we don't have to say goodbye to our favorites just yet. HBO is releasing Game of Thrones: The Last...
What Would Happen If Game of Thrones Had a Season 9? tvguide (2 days ago) - If Game of Thrones' final season hadn't beenthe final season, perhaps fans wouldn't be so furious about what went down -- even if they still didn't care for how fast...