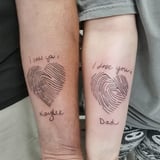 You call your dad whenever something major happens in your life. He's not just your parent, but also your rock, your backbone, your best friend. He's one of the most important people in your life, so why not get a matching tat to cement your familial bond? After all, you'd do anything for each other. Ahead are some creative daddy-daughter tattoo ideas, ranging from sweet and sentimental to quirky and hilarious. Dads are the best!

- Additional reporting by Ashley Paige

Related:

80+ Tattoos That Prove How Powerful 1 Word Can Be...
Published By: popsugar - 7 days ago