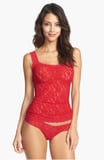 Like the air we breathe and the water we drink, underwear is a part of life so ubiquitous that it often goes unnoticed. Don't let another year pass being unclear about your underpinnings - especially considering 99 percent of you are wearing them right now. (And if not, well, maybe you should be.) Whether you're looking for something sexy or comfortable, we have you covered. Keep scrolling to shop our top picks.

- Additional Reporting by Kate Schweitzer

Related:

11 Surprisingly Sexy Lingerie Sets That You Won't Believe Are From Amazon...
Published By: popsugar - Tuesday, 12 June, 2018