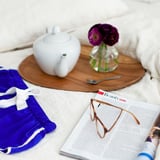 Make a resolution to stop hitting the snooze button! Stop being envious of your friend who wakes up naturally (how is that possible?), and try becoming a morning person yourself. Waking up early has its benefits: you get more sun exposure, you'll always have time for breakfast or exercise, and you'll deal with fewer crowds on your commute if you go to work earlier.

Related:

I Tried Getting Up 1 Hour Early Every Day For a Week - Here's What Happened

Sleep earlier. It's hard to stop surfing the internet late at night...
Published By: popsugar - Tuesday, 24 April, 2018