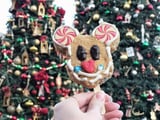 Walking into Disneyland is like entering a fairy tale no matter what time of year you go. However, the holidays take that Disney magic and mix it in with holiday cheer, and it makes for the perfect recipe. From festive foods and sweet treats to beautiful holiday decor, special themed surprises, and souvenirs galore, the Disneyland holiday 2017-2018 will make you smile from ear to ear.

The atmosphere is completely contagious at the park during the holiday season - and how could you not get into the spirit as snow...
Published By: popsugar - Monday, 13 November
Older News
The Ultimate Holiday Survival Guide For New Couples popsugar (Today) - The holiday season is stressful enough, but add it on top of a brand-new relationship and things can reach a fever pitch. While you may be eager to tout your...
2017 guide to holiday music, concerts and shows in Greenville, Pickens and Anderson Music (Today) - When it comes to having a holly, jolly Christmas, music is crucial. And there are lots of holiday musical options going on this season, in many styles and genres. Here's...
23 Beloved Shows We Said Goodbye to in 2017 popsugar (Yesterday) - While it would be lovely if all our favorite shows lasted until the end of time (just kidding, remember the last season of Lost?), all good things must come to...
The 19 Best Tech Accessories of 2017 popsugar (2 days ago) - The most wonderful time of the year has finally arrived, and we couldn't be more excited to bust out our festive sweaters and bask in good holiday cheer. But there's...
12 New Holiday Music Albums for 2017 Music (2 days ago) - Sure, it's great to put on those annual holiday music classics. No family gathering is complete without them! But it's equally wonderful to explore new music and updated renditions of...
25 Sparkly New Things to Wear to Your Office Holiday Party popsugar (3 days ago) - With everyone's favorite season comes holiday parties of all kinds, from get-togethers with friends and family to work celebrations with your colleagues. While you've probably got your personal holiday party...