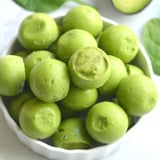 Made with just four wholesome ingredients - avocados, coconut milk, spinach, and vanilla, these green smoothie fat bombs are exactly what you need for a healthy snack, via PaleoHacks.

These smoothie fat bombs are loaded with healthy fats and protein. Avocados give these bites a smooth and creamy texture while spinach adds nourishing vitamins and minerals. For a touch of sweetness, vanilla extract and coconut milk get blended in. If you're not on a strict keto diet, feel free to add raw honey instead!

To make them, simply blend the ingredients together...
Published By: popsugar - Thursday, 12 July, 2018