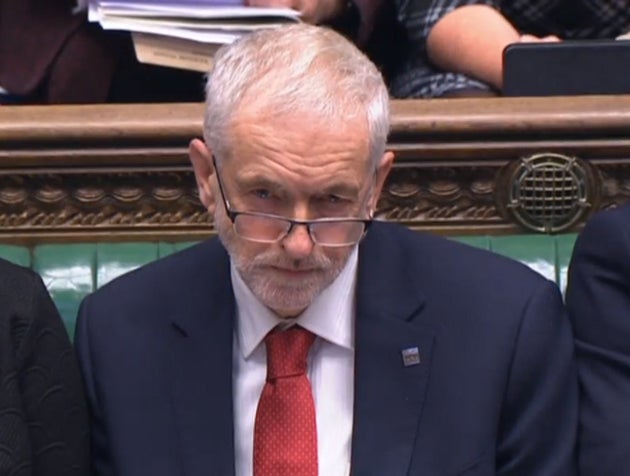 The pro-Brexit wing of the Labour Party has warned that as many as 30 of Jeremy Corbyn's MPs could abstain from voting on Theresa May's big Brexit deal. Labour Leave has said that, while one or two MPs might rebel at next week's vote, 20 or 30 MPs could abstain should the deal face a second test in the Commons. The PM is expected to lose the so-called meaningful vote on her deal on Tuesday, but she then has 21 days to bring forward changes MPs could get behind. The group also warned...
Published By: huffingtonpost - Thursday, 6 December
Older News
Emergency Planners Warned Of No-Deal Food Shortage Risks – Just One Month Before Brexit huffingtonpost (Today) - The government has warned local emergency planning groups across England there could a drop in the food available to Brits if the UK crashes out of the EU without a...
Nicky Morgan Says Theresa May 'Spectacularly Mishandled' Brexit Votes huffingtonpost (Yesterday) - Theresa May "spectacularly mishandled" Thursday's Brexit votes and brought an "entirely avoidable" defeat on herself, a Tory former cabinet minister has said.Nicky Morgan also stressed that trust in the prime...
Ministers Must Quit In Two Weeks Or Be 'Complicit In No-Deal Brexit', Tory Remainers Say huffingtonpost (Yesterday) - Tory MPs have ramped up pressure on ministers to quit the government over Brexit, warning they will be "complicit in delivering no-deal" unless they resign by the end of the...
Michael Portillo Brands Chris Grayling 'The Most Incompetent Minister Of All Time' huffingtonpost (Yesterday) - Former Tory cabinet minister Michael Portillio has dubbed beleaguered transport secretary Chris Grayling "the most incompetent minister of all time". In a damning assessment of his fellow Eurosceptic on the...
May Would Survive Mass Walkout Of Remainer Ministers, Andrea Leadsom Suggests huffingtonpost (Yesterday) - Theresa May would survive as prime minister even if six Remainer ministers in her cabinet resigned en masse over a no-deal Brexit, Commons leader Andrea Leadsom has suggested.Her staunch defence...
Theresa May Is Trying To Pull Wool Over Our Eyes On Our Post-Brexit Rights huffingtonpost (Yesterday) - The Prime Minister isn't being honest with working people about what will happen to their rights after Brexit.While she's offered more warm words and spin this week – both in...
Missed The Valentine's Day Brexit Massacre? Here's Everything You Need To Know huffingtonpost (2 days ago) - Ahh, Valentine's Day. A day for roses, champagne and, because it's 2019 and Brexit dominates everything, a humiliating defeat for Theresa May in the House of Commons. (Though if you're...
Caroline Flint Says MPs' Attempt To Block No Deal Is A 'Trojan Horse' To Stop Brexit huffingtonpost (2 days ago) - A cross-party attempt to take control of Brexit and rule out no deal is a "Trojan horse" for stopping Britain's exit from the EU, a senior Labour MP has said.Caroline...
Labour MPs Defy Jeremy Corbyn To Back SNP Attempt To Delay Brexit huffingtonpost (2 days ago) - Rebel Labour and Tory MPs defied their party leaders and joined an SNP-led attempt to delay Brexit. Jeremy Corbyn had whipped his MPs to abstain on an amendment to Theresa May's...
Theresa May Suffers Fresh Brexit Humiliation After Hardline Tory Eurosceptics Trigger Commons Defeat huffingtonpost (2 days ago) - Theresa May has suffered a fresh humiliation over Brexit after her eurosceptic MPs helped Labour to inflict a new parliamentary defeat on the government.Just 43 days from the UK's planned...