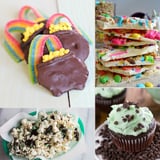 Treat your kids - Irish or not - to something special and sweet this St. Patrick's Day. We've rounded up 21 great ideas, including everything from Lucky Charms-laced Rice Krispies treats to green cookies, brownies, and even milk! Whether you prefer your recipes super easy or extra-ambitious, you'll find a St. Paddy's Day treat that will please you and your little ones right here.

Keep clicking to get lucky!

Related:

Here's How to Make Those "Leprechaun Traps" You've Been Seeing Everywhere...
Published By: popsugar - Thursday, 14 March