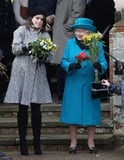 Queen Elizabeth II may be the ruler of England, but it's clear that her family always comes first and foremost. The queen has a total of eight grandchildren; however, we especially love seeing her bond with Princess Eugenie. The two are frequently seen together at royal events, and Eugenie often refers to her as "Granny." In fact, when Prince Andrew and Sarah Ferguson's youngest daughter got engaged to wine merchant Jack Brooksbank this past January, Elizabeth was one of the first people to find out. "Granny actually knew right at...
Published By: popsugar - Thursday, 11 October
Older News
How Many Great-Grandchildren Does the Queen Have? Get to Know Her Smallest Royal Relatives popsugar (Yesterday) - Meghan Markle and Prince Harry are expecting their first child, and along with the potential of earning a fancy title and A-list godparents, the new addition will also be joining...
Ayda Field reveals she was worried about daughter's bridesmaid role at Princess Eugenie's wedding mirror (2 days ago) - Adorable six-year-old Theodora Rose Williams was on her best behaviour as Princess Eugenie's royal bridesmaid. ...
Ayda Field: X Factor star thought Meghan Markle was pregnant at Princess Eugenie's wedding express. (2 days ago) - AYDA FIELD, who is currently a judge on ITV show The X Factor with her husband Robbie Williams, revealed she had her suspicions the Duchess of Sussex, Meghan Markle, was...
Why Ayda Field knew Meghan Markle was pregnant when she attended Royal wedding with husband Robbie Williams mirror (3 days ago) - The X Factor judge says she suspected the Duchess of Sussex was expecting her first baby with Prince Harry when she saw her at Princess Eugenie's wedding ...
Cool or Strict? What These 13 Royal Moms' Signs Say About Their Parenting Style popsugar (3 days ago) - Royal moms are just like regular moms (except the whole crowns, tiaras, and titles thing), and like every mom out there, they, too, have their own parenting styles. Yep, even...