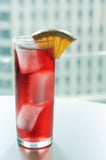 Whether you're planning an Easter brunch, late lunch, or early dinner, one thing's for sure: getting the whole family together means you must celebrate with cocktails that are just as festive as the food you're making!

If you're in search for a few springtime sippers to accompany your grand meal, we've got 11 for you, including classics you already love and new favorites you'll want to add into your weekend cocktail rotation - even when it's not a holiday!

Related:

Easy 1-Pan Easter Recipes That Allow For More Time Spent With Family...
Published By: popsugar - Friday, 15 March