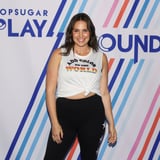 After what feels like a long time coming, the Miss America pageant has decided to remove the swimsuit competition from the show and stop judging the women on their physical appearances. Former pageant competitor and current curve model Candice Huffine could not be more thrilled with the decision.

"It's about time, honestly," Candice said at POPSUGAR Play/Ground, while speaking on a panel about models breaking the mold. "The structure in general I think is a little outdated, so I'm excited to see that there's changes finally."

Related:

Feeling Insecure About Your "Flaws"? Read...
Published By: popsugar - Wednesday, 13 June, 2018